Why RE

/

MAX Alliance in Boulder, CO?
– Our average listing sells in 66 days, compared to an average of 90 days for the MLS.
– We work closely with other brokers, within and outside of our office. Our relationships matter!
– 97.9% of our listings close on time, compared to an industry average of 44%.
– We are a small and service oriented "boutique" agency, with International reach.
– RE/MAX Alliance in Boulder, CO  has set the bar high for customer service, professionalism, and customer satisfaction.
How does RE

/

MAX Alliance in Boulder, CO compare to the competitors in the Luxury Property market?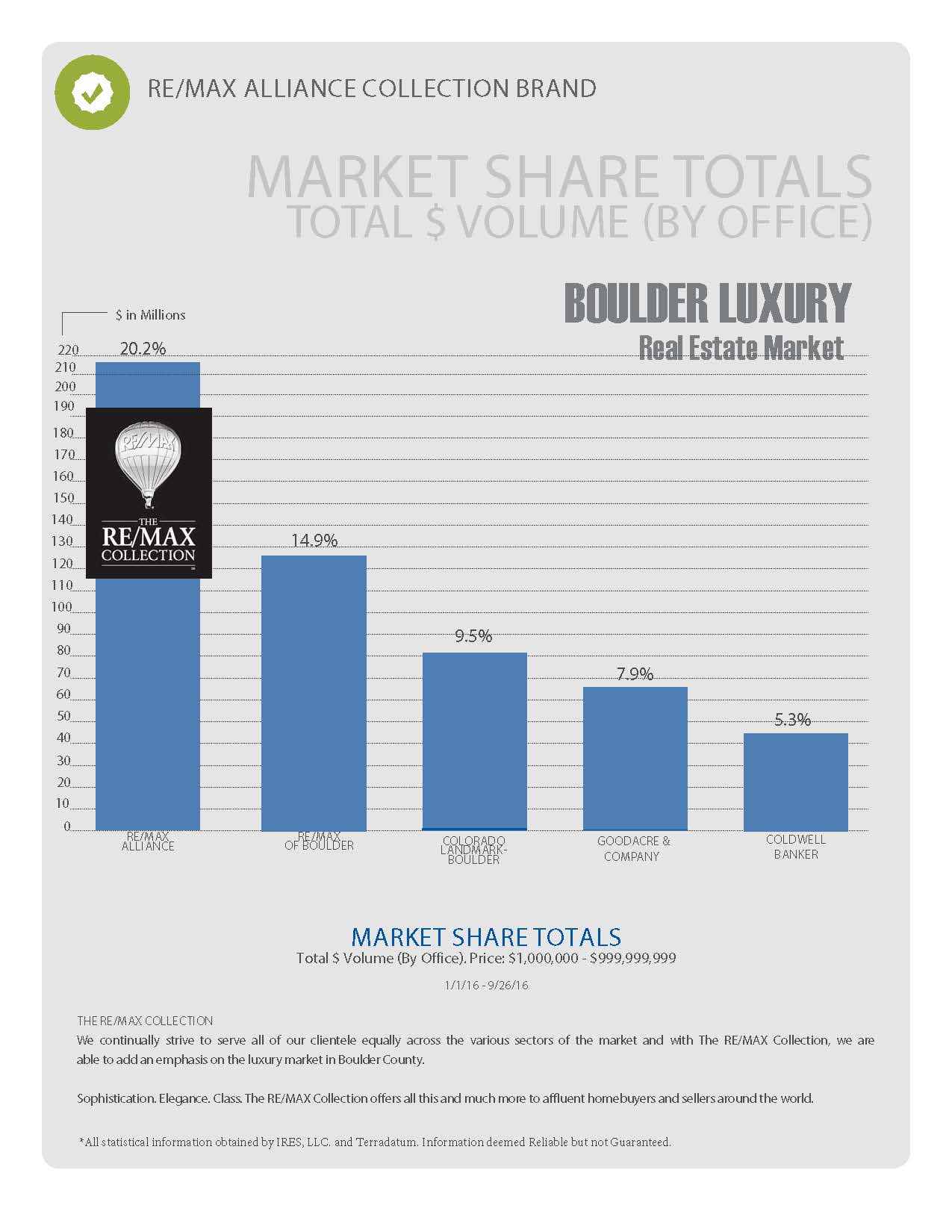 What makes RE

/

MAX Alliance in Boulder, CO the TOP Luxury Real Estate Agency in Colorado?
Opened in Boulder Colorado in 1984, with a focus on Marketing and a Top Level of Service.
Is Colorado's LARGEST locally owned Real Estate Organization.
Has over 115 full-time professional real estate agents in the Boulder Area, with an average of 12 years of experience per agent.
International Reach: Active member of the RE/MAX International referral network composed of over 60,000 professional RE/MAX real estate agents.
HAPPYinBOULDER is part of RE/MAX Alliance on Walnut! Our TEAM acts as a focus team, and we are fully supported by the REMAX Alliance of Walnut Agency. The advantages to you are many:
REMAX Alliance on Walnut is Boulder's Power House Luxury Home and Property Agency, despite being one of the more personalized "boutique" agencies in town.
It is the #1 agency in Boulder, based on annual sales volume of high-end property, with a total annual volume of more than 94 Million dollars in 2015 ( Total of all properties sold with values over 1.2 Million dollars).
In addition, the realtors at RE

/

MAX Alliance in Boulder, CO, on an individual performance basis, have outperformed the agents of the competing agencies in Boulder, with an average market share per agent of $6.8 Million in annual sales for 2014.
Our focus TEAM, nicknamed the HAPPYinBOULDER" team, is proud to be a member of the RE/MAX Alliance in Boulder, CO. team of professionals, and you will also have the advantage of this relationship.  In this business, relationships matter!
And beyond the Boulder Luxury Real Estate market,
here is how RE

/

MAX Alliance in Boulder, CO compares
to the other leading agencies: